Adibah Che Mat Daon, Mat Daon (2004) A Network Disaster Recovery Plan Framework for Academic Computing Centre. Masters thesis, Universiti Utara Malaysia.

PDF




ADIBAH_CHE_MAT_DAON.pdf


Restricted to Registered users only
Download (8MB)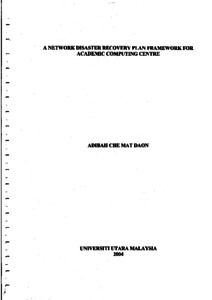 Preview
PDF




1.ADIBAH_CHE_MAT_DAON.pdf


Download (1MB) | Preview
Abstract
This thesis presents a network disaster recovery plan (DRP) framework for academic computing centre. Universiti Utara Malaysia Computer Centre is taken as a case study. The proposed framework consists of seven phases of disaster recovery plan which has been enhanced and improved by researcher based on past studies. The phases of the framework are risk assessment, prevention, preparedness, reaction, immediate recovery, restoration and review. The type of disaster in this study focuses on virus threats. In addition, the framework describes the virus management processes in each phases which is before, during and after virus occurs. The framework of network disaster recovery plan outlined here should provide the direction necessary for planning at any academic computing centre.
Actions (login required)