Azhar, Abdul Wahab (2008) Financial Management of Mosques in Kota Setar District: Issues and Challenges. Masters thesis, Universiti Utara Malaysia.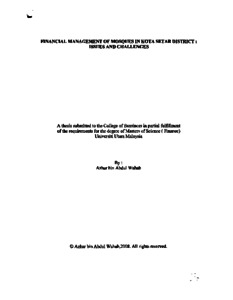 Preview
Text




Azhar_Abdul_Wahab.pdf


Download (1MB) | Preview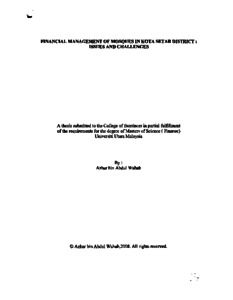 Preview
Text




Azhar_Abdul_Wahab.pdf


Download (205kB) | Preview
Abstract
Mosque is one of the most important institutions in the Islamic community. Financial management of mosques is one of the main issues that has come to the forefront ,and caught attention of many people. Good financial management
practices not only be valued in terms of recording and reporting financial transactions but also how to obtain and to manage funds effectively. The main objective of this study is to find out the management practices of 40 mosques in Kota Setar district in terms of their collection system, source of fund, recording and reporting system. The study also identifies their strengths and weaknesses in financial management. 160 questionnaires were distributed to the mosques committee in 40 mosques to identify. their opinions toward the uses of funds collected and the quality of financial management in their mosques. 97 questionnaire(60.6%) were received and have been analyzed. Findings indicate that the main sources of funds for mosques is collection from the public. The collection on Friday contribute major income for mosque as well as from other sources such as from wakaf property. In terms of recording and reporting financial transactions , mosques in Kota Setar appear to have strong internal control procedures for the receipt of income. However, they need to improve the internal control procedures in the areas of reporting of financial information with regard to the mosque funds. The
findings also show that all the selected demographic characteristics ( age, level of education, employment, position of mosque committees, and location of mosques -
urban/rural areas) did not significantly differ from one mosque to another. In terms of their perception or opinion on financial management practices in the mosques.The study has identified that the major issue faced by the mosques is the lack of efforts to invest the mosques' funds into more economic and productive activities. Hence,future challenges are immense.In this thesis ,we contribute several
suggestions( based on our findings) to further improve the financial management of funds in mosques.
Actions (login required)