Rizauddin, Saian (2004) Stemming Algorithm in Searching Malay Text. Masters thesis, Universiti Utara Malaysia.
PDF




RIZAUDDIN_B._SAIAN.pdf


Restricted to Registered users only
Download (3MB) | Request a copy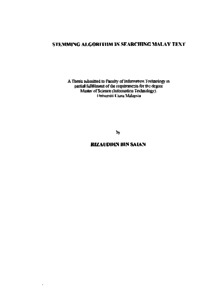 Preview
PDF




1.RIZAUDDIN_B._SAIAN.pdf


Download (600kB) | Preview
Abstract
Stemming is one of the processes that can be used to improve performance of a search engine. It reduces the variant word forms to common forms. This project
evaluates the retrieval effectiveness of stemming algorithm in searching and retrieving relevant Malay Web pages based on user natural query words. The retrieved Web pages are weighted and ranked using Inverse Document Frequency
function. The retrieval effectiveness is measured using standard recall and precision. Experiments performed show that searching with stemming improves retrieval effectiveness when compared to searching without stemming algorithm.
Actions (login required)