Lee, Kok Tiong (2009) Free Wifi as Strategic Competitive Advantages for Food Outlet. Masters thesis, Universiti Utara Malaysia.
PDF




Lee_Kok_Tiong.pdf


Restricted to Registered users only
Download (674kB)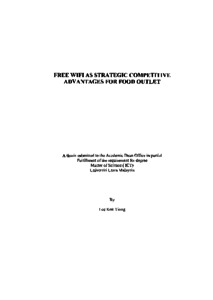 Preview
PDF




1.Lee_Kok_Tiong.pdf


Download (167kB) | Preview
Abstract
The food industry in Penang has been growing in tandem with development within Penang state. To remain competitive, each food outlet is adopting its own strategy in order to secure their return on investment and profitability.
Porter's five competitive forces model layout five forces which can affect any industry, inclusive food industry. The five forces are bargaining power of supplier, bargaining power of customer, threat of new entrants, threat of
substitutes and competition among rivalries. Each of these forces is being analyze and link to food outlet within Penang whom offers free WiFi services to their customers. Assessment is being done using Porter's model in order to
find out whether such strategy is benefiting the food outlet in terms of staying competitive compare to their rivals. Two phases of data collection by using qualitative methodology are being planned and role out in order to achieve the objectives of this research. The first phase will be covering survey and observation done on three regions within Penang state while the second phase will be covering interview with identified food outlet's manager. Cross interview with the food outlet customers will be done in order to establish the Porter's forces strength matrix.
Result has shown that by that offering free WiFi to meet the customers' needs, it can help to generate revenue increase of as high as 50% thus ensuring the food outlet to stay competitive. This is more visible when dealing with case of food outlets at same area are targeting the same group of customers as what had been observed in this research. This research provides a good reference to other food outlets that yet to adopt any strategy in order to stay competitive. With proper analysis of the overall
business environment and utilizing Porter's model, free WiFi can be used as strategic competitive advantage for any food outlets in Penang and beyond.
Actions (login required)