Abualhayjaa, Sami Ahmad Mosbah (2010) Automatic Organization of E-Mail Application Using Intelligent Agents. Masters thesis, Universiti Utara Malaysia.

PDF




Sami_Ahmad_Mosbah_Abualhayjaa.pdf


Restricted to Registered users only
Download (1MB)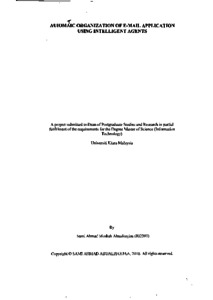 Preview
PDF




1.Sami_Ahmad_Mosbah_Abualhayjaa.pdf


Download (217kB) | Preview
Abstract
Email is one of the best things about the internet. Email is an effective tool, it allows any individual to communicate with his family and friends all over the world and learn about online support a group. E-mail has become the way for much of the world's correspondence. These benefits become problems when the volume of use becomes very large. Sometimes a person can review so many emails daily, so how can he organize incoming emails to highlights the email that is important Hence, this study proposes automatic organize e-mails application using of Intelligent Agents (IA) for categorization and managing received e-mails.
Actions (login required)