Al-Maradat, Sulaiman Ahmad Sulaiman (2010) Company Characteristics and Environmental Disclosure Among Industrial Sector in Jordanian Companies. Masters thesis, Universiti Utara Malaysia.

PDF




Sulaiman_Ahmad_Sulaiman_Al-Maradat.pdf


Restricted to Registered users only
Download (637kB)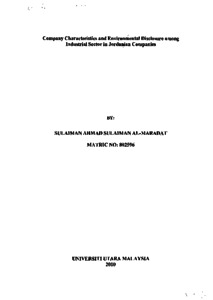 Preview
PDF




1.Sulaiman_Ahmad_Sulaiman_Al-Maradat.pdf


Download (134kB) | Preview
Abstract
This study aims to examine the extent of environmental disclosure of industrial sectors in Jordan based on 46 companies listed on Amman Stock Exchange. Specifically, this paper examines the influence of four firm specific characteristics on the level of environmental disclosure. The four variables are firm size, profitability, leverage, and type of audit firm. A content analysis is used to measure the environmental disclosures in words. The results indicate that environmental disclosures in Jordanian companies are incomplete and at a very low level. The results also show that firm size and leverage are significantly related to the environmental disclosure. Other companies' characteristics such as profitability and type of audit firm have no significant relationship with environmental disclosure.
Actions (login required)