Ali T, Bakhit Thamer (2012) The Development of Online Billing and Invoice Management System for Saudi Small Companies. Masters thesis, Universiti Utara Malaysia.

PDF




Bakhit_Thamer_Ali_T.pdf


Restricted to Registered users only
Download (2MB)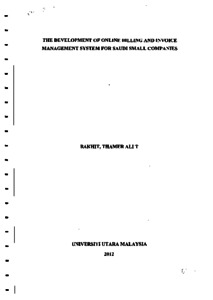 Preview
PDF




Bakhit_Thamer_Ali_T.pdf


Download (449kB) | Preview
Abstract
Invoicing and billing application for different business purposes helps mainly the service providers and freelancers to manage, send professional invoices online, and track its status. Generally, all the small companies in Saudi Arabia facing a various issues for managing and tracking the invoice status of customers, which mostly back to the lacks of adapting new technology in these companies. One of these lacks is tracking the bills status for a definite projects'. Therefore, this research intends to design and develop an online billing and invoice management system to expenses effortlessly and saves both time and money on the employees in the Saudi small companies (Sepco Company). The propose system intend to provide a digital tracking of the time spend on projects and send invoices directly to clients. An evaluation was conducted among 30 employees and business administrators at Sepco Company to perceive their opinion towards the system ease of use, usefulness, and satisfaction. The result revealed that the proposed system gained a satisfactory level among the participants.
Actions (login required)