Aloun, Nayyel Arsan (2012) Web-Based Internet Mobile Application to Manage Organization. Masters thesis, Universiti Utara Malaysia.

PDF




NAYYEL_ARSAN_ALOUN.pdf


Restricted to Registered users only
Download (1MB)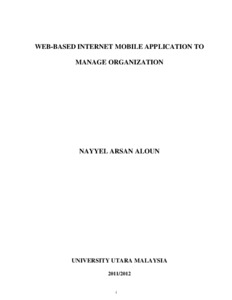 Preview
PDF




NAYYEL_ARSAN_ALOUN.pdf


Download (313kB) | Preview
Abstract
Information world today's, where the internet and web technology are used widely. Most of the organizations acknowledge the importance of SMS system and WEB in reaching and interacting with their users. However, there is much discussion regarding the effectiveness when it comes to SMS system. This study helped organization's students, users of organization, and willing to accept, reading and using SMS messages: effective is SMS messages compared to traditional communications. The goal of this study is to investigate the effectiveness of SMS messages compared to traditional ways for different aspects and on the other hand, to develop prototype by using Web and SMS technology to apply this system and extent students are willing to accept SMS messages on their mobile phone, since the effectiveness of SMS messages highly depends on this willing. The results of this research indicate that the use of the web and SMS for the benefit of the organization and students in all aspects instead using traditional ways to contact.
Actions (login required)