Nantah, Ponnusamy (2014) Kompetensi lisan guru Bahasa Melayu Sekolah Jenis Kebangsaan Tamil dalam pengajaran Bahasa Melayu sebagai bahasa kedua. Masters thesis, Universiti Utara Malaysia.

Text




s807523.pdf


Restricted to Registered users only
Download (2MB)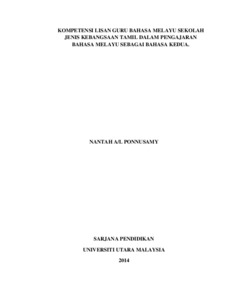 Preview
Text




s807523_abstract.pdf


Download (680kB) | Preview
Abstract
Literature of the second language acquisition (L2) was student-centred and found that there is limited research on the teachers' second language (L2) in verbal competency, particularly at the National-type Tamil Schools (SJKT) in Malaysia. So, there is research gap exists on teachers' capabilities and abilities as an L2 presenter in classroom. This research aims to identify the verbal competency level of the Malay language teachers at SJKT in teaching the Malay language as an L2 in the districts of
Kulim and Kuala Muda as well as identifying the challenges and measures to improve the level of verbal competency of the Malay language teachers in SJKT. This research is used mixed mode design. The researcher used the simple random sampling method to select 105 Indian teachers teaching the Malay language. Their level of competency is measured using the Stanford Foreign Language Oral Skills Evaluation Matrix form (FLOSEM). The respondents were asked to evaluate their own verbal competency level consisting of six stages in five domains. An open interview used to identify challenges and measures in enhancing the competency of Indian teachers. Purposive sampling was used to select respondents. The triangulation method was used to improve the validity of the interview. The results acquired from FLOSEM show that the verbal competency level of the Malay language of the majority of teachers in SJKT is in lower intermediate scores (16 – 20) only. The respondents faced various challenges such as interference of their native language; Malay language is not their option as well as lacking ability to teach Malay language. To overcome this problem, an instrument suggested for
measuring the level of Malay language oral competency. In addition, new courses and complete monitoring should be introduced to SJKT teachers. This study is in line with
the Krashen L2 acquisition theory which suggests that C = i+1, if the student is at the 'i' level, the L2 acquisition is achieved when the teacher delivers 'comprehensible input'.
This research is useful, especially for those responsible such as Ministry of Education to
develop the quality of the Malay language in SJKT.
Actions (login required)