Ahmed, Iftekhar (2018) Mission drift in microfinance institutions of OIC countries: The influence of institutional and macro risk indicators on the mutual exclusion of double bottom lines. Masters thesis, Universiti Utara Malaysia.

Text




EDT submission form.pdf


Restricted to Repository staff only
Download (613kB) | Request a copy

Text




s818296_01.pdf


Restricted to Registered users only
Download (3MB) | Request a copy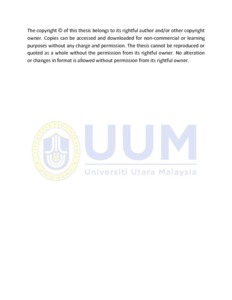 Preview
Text




s818296_02.pdf


Download (2MB) | Preview
Abstract
With commercialization and transformation taking place in the microfinance industry, the original mission of poverty alleviation may drift toward profit maximization. This thesis thus attempts to investigate the concern of mission drift in the member states of the Organization of Islamic Cooperation (OIC) and how they are influenced by various institutional and macro risk indicators. This quantitative research approach used a panel
dataset of 5 years' observation (2011-2015) of 57 MFIs of the OIC member countries. The ordinary least squares techniques with robust estimation to the general form of the cross sectional and temporal dependency was utilized. The evidence of this study should dispel the widely held apprehension of "mission drift", rather it reveals that outreach to the lowest strata of poor can actually bolster the financial viability of MFIs. However, positive evidence of mission drift was identified for the regulated and matured MFIs. The results also indicate that non-bank financial institutions and non-governmental organizations have outperformed in social outreach than their counterparts. The findings show that network affiliation has a significant positive impact on the microfinance social mission. Furthermore, the study reveals mixed findings regarding the influence of institutional and macro risk indicators. Maturity, network affiliation and Gross Domestic Product (GDP) growth rate show greater influence than others on the relationship between the financial and social performances. The study supports the implication of the trade-off paradigm and the sustainability–driven scaling up approach. Hence, this research concludes that seeking financial sustainability does not necessarily harm the social mission, however, MFIs must find an equilibrium point of balancing their double
bottom lines and continue the mission of poverty alleviation in microfinance operations.
Actions (login required)