Fazreena, Mansor (2018) Beyond profit: Corporate social responsibility (CSR) practices amongst hoteliers in Pulau Pinang, Malaysia. PhD. thesis, Universiti Utara Malaysia.

Text




DepositPermission_s94767.pdf


Restricted to Repository staff only
Download (29kB)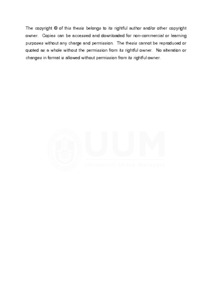 Preview
Text




s94767_01.pdf


Download (2MB) | Preview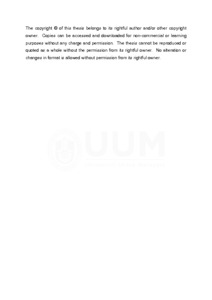 Preview
Text




s94767_02.pdf


Download (855kB) | Preview
Abstract
The concept of corporate social responsibility (CSR) has grown exponentially in the last decade and is gradually becoming a rising trend within the hospitality sector. In Pulau Pinang, the hospitality sector is not new and its potential in delivering benefits to the local communities is still a much debated subject. This study investigated the CSR practices amongst the hoteliers with regard to their understanding of CSR, the activities performed in the hotel that affect the wellbeing of communities, the
management of CSR, their reasons and challenges in implementing CSR. A series of in-depth interviews were undertaken with eight hoteliers in Pulau Pinang. Two focus group discussions were conducted involving employees and beneficiaries in order to obtain an insight into their prevailing perceptions and underpinning reasons for such perceptions. The study found that CSR practice is still considered to be at its infancy stage and it is a sign of the immaturity of CSR implementation in Pulau Pinang. The hoteliers in Pulau Pinang have failed to facilitate community access to benefits of CSR development in their respective localities, thereby denying them the opportunity
to improve their wellbeing and livelihoods. Hoteliers are hindered by poor internal
communication and a lack of social consciousness connecting their various programs. The seasonality of CSR activities is due irregular funding and lack of understanding and expertise in this area. The study stressed an urgent need for decisive measures at policy and planning level to achieve the true meaning of CSR. This study also proposed a model of genuine social change for hoteliers to participate successfully in CSR development in Pulau Pinang.
Actions (login required)