Haladu, Alhassan (2017) Determinants of sustainability reporting by environmentally sensitive firms in Nigeria. PhD. thesis, Universiti Utara Malaysia.

Text




s95289_01.pdf


Restricted to Registered users only
Download (2MB) | Request a copy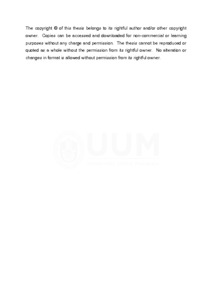 Preview
Text




s95289_02.pdf


Download (1MB) | Preview
Abstract
The effects of man's actions and industrialization on the bio-system have not been pleasant. The effect of environmental challenges likes drought, desertification, erosion, gas flaring, and pollution is suffering by Nigerian now. Indirectly, it affects the social and political landscape of Nigeria. Hence, this research has been made to investigate the relationship between sustainability reporting and its determinants like environmental policy administrators, corporate financial performance, board independence and corporate foreign ownership concentration. The research primarily targeted the nature and trend of sustainability disclosure in compliance with the Global Reporting Initiative (GRI-4 or G4) which is internationally recognized for sustainability reporting standards and guidelines. Concentrating on environmentally sensitive companies in Nigeria, the research covered 67 firms over a 6-year period (2009-2014). Data were analyzed through content analysis,
descriptive statistics, and robust random effect regression after embarking on proper data screening and diagnostic tests. The results showed an appreciably higher level of sustainability disclosure by environmentally sensitive firms. However, on matters of influence only board independence and duality showed significant relationships. Both of which have inverse relationship with sustainability information disclosure indicating that an independent board and division of the CEO's duty does not encourage higher disclosure of sustainability information. The significance of these results is to enable the appropriate authorities to maintain the increasing trend in disclosure with the prospect of future improvements through mandatory disclosure. In addition, the research could serve as a basis for a major overhaul of the "Code of Corporate Governance - 2011".
Actions (login required)