Arif, Ghani (2018) Highway maintenance management : a study of Lebuhraya Damansara-Puchong (LDP). PhD. thesis, Universiti Utara Malaysia.

Text




Depositpermission_s95118.pdf


Restricted to Repository staff only
Download (110kB) | Request a copy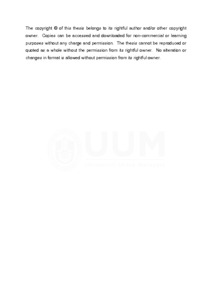 Preview
Text




s95118_01.pdf


Download (1MB) | Preview
Abstract
Practical and effective highways have been known to enhance the movement of people as well as products to boost the economy of a country. Without a proper maintenance system, highways can rapidly tumble into depreciation which in the end will affect the highways patron in terms of vehicle operation, time, reliability, and safety. The purpose of the present research was to evaluate the effectiveness of the highway maintenance management system of Lebuhraya Damansara-Puchong (LDP). The selection of LDP was related to some issues such as the high number of accidents, road congestion, flash floods and noise problem indicate that LDP has major concern to be addressed in relation to its practices in terms of the effectiveness of the maintenance management system. The study also attempted to propose improvements in policies and regulations of highway maintenance management system for LDP and the flow of communication in the Highway Maintenance Department. The study applied the qualitative case study
approach in which the research explained the effectiveness of maintenance management system practices at LDP to overcome problems in maintenance work and improve the information management process which is critical in preparing a high quality work report. The study revealed the problems of effectiveness in the LDP highway maintenance system, the importance of the policies and regulations for work execution, observation and surveillance, and the significance of the flow of communication in the application of highway maintenance management system particularly in the preparation of high quality work report. Recommendations for future study are offered to provide opportunities for future researchers to continue this research, focusing specifically on the highway environment.
Actions (login required)