Faaeq, Munadil K. (2007) Perception of Administrative Corruption Among Business Managers in Baghdad, Iraq. Masters thesis, Universiti Utara Malaysia.
PDF




munadil_k.faaek.pdf


Restricted to Registered users only
Download (1MB) | Request a copy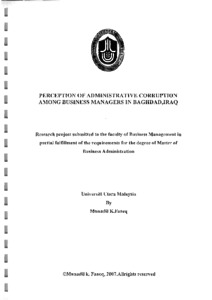 Preview
PDF




munadil_k.faaek.pdf


Download (512kB) | Preview
Abstract
This study is an attempt to examine the perception of administrative corruption among managers of business organizations in Baghdad, Iraq. A survey was camed out among 16 business managers in the area of Resafa in Baghdad .The result of the survey showed that the
mangers are aware about the incident of corruptions. In addition the managers also suggest some measures to reduce corruption in Iraq.
Actions (login required)