Abd. Hadi, Abd. Razak (2004) Sistem Pemulihan Data : Alat Forensik Cakera Menggunakan Teknik Imbasan Cakera Untuk Sistem Pengoperasian Windows (FAT 32). Masters thesis, Universiti Teknologi Malaysia.
PDF




ABD._HADI_ABD._RAZAK.pdf


Restricted to Registered users only
Download (2MB)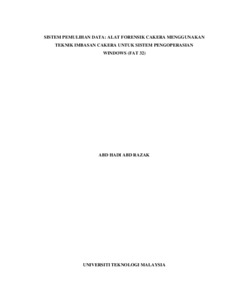 Preview
PDF




ABD._HADI_ABD._RAZAK.pdf


Download (153kB) | Preview
Abstract
The purpose of this study is to understand the field of computer forensics that has been discussed lately through the computer security concept. Computer forensics is an
important field for law enforcement agencies because it can be used to bring computers or cyber criminals to court. At this moment, crime does not only involve the physical-based crimes such as robbery, killing, stealing and others, but also involve computers as a medium in doing crime. Computer forensics is needed to determine and detect evidence of computer crime. Methods being used by forensic analysts today are to gather the evidence by using disk forensic. One of these techniques is through data recovery. This study has been done to recover deleted files or data from a computer. The main objective of this study is to determine how the data or file that has been deleted can be recovered and then to determined whether it is evidence or not. A recovering system prototype has
been implemented using method and technique described in this research.
Actions (login required)