Munirah, Khamarudin (2003) Penerimaan Pengguna Terhadap E-Dagang : Kajian Kes di Universiti Utara Malaysia, Sintok. Masters thesis, Universiti Utara Malaysia.
PDF




MUNIRAH_BT._KHAMARUDIN.pdf


Restricted to Registered users only
Download (12MB) | Request a copy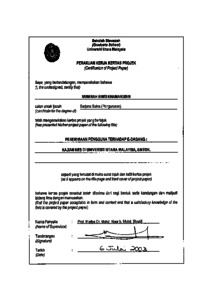 Preview
PDF




1.MUNIRAH_BT._KHAMARUDIN.pdf


Download (1MB) | Preview
Abstract
The advancement in information technology does bring impacts in our daily lives. This includes our purchasing methods. The purpose of this study is to examine the adoption of e-commerce among the consumers in Universiti Utara Malaysia. E-commerce is the new way of marketing products and services to the consumers. It evolves from today's development in the information and communication technology. The literature reviews for this study are mainly from books, magazines and from previous studies. Models that are related to innovation are being used in order to relate to the consumers behaviors. The models are namely Innovation Resistance Model and Consumer Behavior of Ecommerce Model. Furthermore, the adaptation of instrumental conditioning model also being used in order to relate learning behavior among the consumers. The type of sampling being used in this study is convenient sampling. It involved 186 respondents among Universiti Utara Malaysia's staff. The types of analysis being done are like descriptive analysis and inferential analysis. It shtowed that products like airlines tickets an travel services have the potential to be marketed through e-commerce. Besides, academic materials such as books, magazines and journals are already being purchased
through e-commerce. However, the analysis showed that the adoption level of ecommerce among the respondents are relatively low.
Actions (login required)