Nerda Zura, Zabidi (2003) Pengurusan Pembekalan Air Negeri Perlis. Masters thesis, Universiti Utara Malaysia.
PDF




NERDA_ZURA_BT._ZAIBIDI.pdf


Restricted to Registered users only
Download (10MB)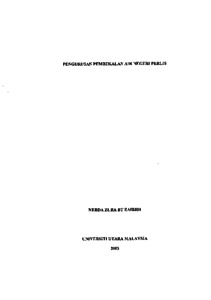 Preview
PDF




1.NERDA_ZURA_BT._ZAIBIDI.pdf


Download (1MB) | Preview
Abstract
This study represents an acempt to forecast the water demand the domestic sector for the state of Perlis until the year 2010 in order to assure that the water resources are available to satisfy the demand requirement. The domestic demand for water of this study was forecasted using the IWR-MAIN (Institute for Water Resources-Municipal and Industrial Needs) software, established computerized forecasting system. The explanatory variables that were considered in this study were housing units, population, household income and land uses, all of which were factors influence the water demand. The change in the water demand forecast is explained by the change in the selected explanatory variables as well as the shange in counting units. The fluctuation of the water demand from January 2003 until December 2.010 was analyzed so as to identify the water demand pattern in the state Perlis. This study also attempts to identify the problems associated with water supply management state of Perlis through data manipulations and interviews with the relevant authorities in the water supply management of the state.
Actions (login required)