Ahmad Nurzid, Rosli (2004) Mobile Computing at Sultanah Bahiyah Library : Mapping Physical Book Rack Location Using Handheld Devices. Masters thesis, Universiti Utara Malaysia.
PDF




AHMAD_NURZID_B._ROSLI.pdf


Restricted to Registered users only
Download (2MB) | Request a copy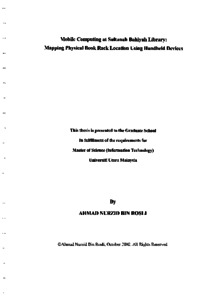 Preview
PDF




1.AHMAD_NURZID_B._ROSLI.pdf


Download (670kB) | Preview
Abstract
Handheld computers offer the flexibility and mobility to be "ready at hand" tools that can facilitate learning environment. This paper describes an experimental mobile rack locating application. It allows an intelligent way to assist the user of Sultanah Bahiyah Library at Universiti Utara Malaysia (UUM) to locate the exact location of the books by using the local call number using handheld devices. It presents the rack location using the mapping technique. The expert review has been conducted in the development process in finding the usability of the prototype application. A study on user has been conducted in finding how the application has assisting the user in finding books in the library.
Actions (login required)