Ahmad Shabudin, Ariffin (2004) Tahap Kepuasan Pelanggan Satu Kajian Perkhidmatan Klinik Veterinar di Jabatan Perkhidmatan Haiwan Negeri Kedah Darul Aman. Masters thesis, Universiti Utara Malaysia.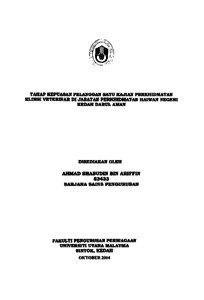 Preview
Text




AHMAD_SHABUDIN_B._ARIFFIN.pdf


Download (14MB) | Preview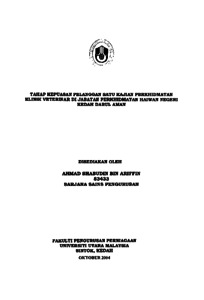 Preview
Text




1.AHMAD_SHABUDIN_B._ARIFFIN.pdf


Download (1MB) | Preview
Abstract
Research of customer satisfaction level especially in a service oriented organization has long been carried out in advanced countries, but not so in Malaysia. In view of the empirical research done some time back, there is still
no basic conceptual service quality in place, so a research survey was carried out by Parasuraman to investigate quality service. From the above fruitful service quality evolution changes, SERVQUAL measurement has been used as a tool to know the level of customer satisfaction in regard to services given. However SERVQUAL critics are based on logically what is necessary in spite of the required measurement. To SERVQUAL validity
and reliability has difference-score formulation and is beyond its variable dimension. Finally G.S Sureshchander recommend that service quality needs five dimensions namely core service or service product, human element, tangibles of services and social responsibility. With the aid of the SERVQUAL basic and instrumental addition based on G.S Sureshchandar's critics, it has been solely proven that the increase in customer satisfaction is based on the increase in service quality.
Actions (login required)