Alexander, Wong (2004) Kepuasan Pelanggan Dan Hubungannya Dengan Kualiti Perkhidmatan : Satu Kajian Di Istana Budaya, Kuala Lumpur. Masters thesis, Universiti Utara Malaysia.
PDF




ALEXANDER_ANAK_WONG.pdf


Restricted to Registered users only
Download (11MB)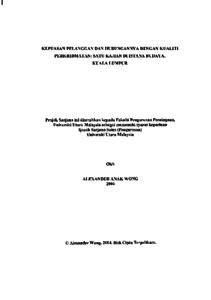 Preview
PDF




1.ALEXANDER_ANAK_WONG.pdf


Download (1MB) | Preview
Abstract
The study was carried out to investigate the customer satisfaction at Istana Budaya. The main focus of the study was to study the differences in satisfaction among the audience based on their demographic backgrounds. The outcomes of the study are essentials in order to identify the target groups for theatre s audience development programs. Next, the study investigated the relationship between customer satisfaction and service quality,
and subsequently identified the possible factors that contribute to audience satisfaction in the performing arts. An instrument called the SERVQUAL was chosen to facilitate the study. Initially, SERVQUAL was designed to measure the service quality of an organization. However, recent studies show that the instrument can be used for
satisfaction study. The application is based on the relationship between these highly related constructs. A particular relationship stated that customer satisfaction is temporal measurement pertaining to a service that is made at a transaction-specific basis whereas service quality is defined as a long-term measurement based on multiple transactions with the service. Hence, a single study using the SERVQUAL can be regarded as a satisfaction study. The result of the study showed that the audience was mostly made up of young Malay post-graduate female students. The study also found that that there were
differences in satifaction among the audience based on demographic factors with the exceptions for gender and salary. It was also revealed that the audience had a high
satisfaction toward the service of the theatre and its personnel, namely the ushers and ticketing and reception staffs. The study was also able to show the relationship between the two constructs where service quality explained about 21% of the variation in customer satisfaction. Lastly, empathy and tangible were found to be important factors in influencing customer satisfaction. Based on the study it is hopeful that these findings can contribute significantly towards the development of audience at Istana Budaya and also to the performing arts sector in Malaysia.
Actions (login required)