Badriyah, Johari (2004) Requirement Model for Storing and Retrieving ISO Document : Teaching and Learning Process. Masters thesis, Universiti Utara Malaysia.
PDF




BADRIYAH_JOHARI.pdf


Restricted to Registered users only
Download (4MB) | Request a copy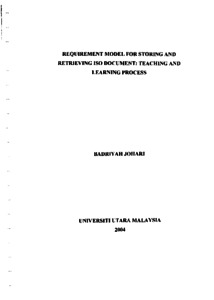 Preview
PDF




1.BADRIYAH_JOHARI.pdf


Download (616kB) | Preview
Abstract
Requirements play an important role in system development project. It is because requirement form the backbone of any successful project and provides the measure of success of failure of a certain project Mis-interpreted of requirements will make the system development does not meet the customer's expectation and increasing cost. Therefore, it is necessary to present the requirement in an understandable and meaningful way. Requirement model is one of the techniques used to model out the requirements. This model will give a complete view of certain system and represent idea without having to build an actual system. This study aims to create a requirement model for storing and retrieving ISO document : teaching and learning process at Universiti Utara Malaysia (UUM). UML notation was used to model out the requirements. To validate requirements, system modeling and prototyping were used to complete this task. Meanwhile, HOORA Analysis Tool (HAT) was used to validate requirement model produced in this study. UML diagrams and a set of requirement list will be produced in this study. Problems and limitations, which encountered during this project several recomendations for future research, will be discussed at the end of this study.
Actions (login required)