Shamsul Huda, Abd. Rani (2003) Restricting Factors and Involvement of Married Women in Entrepreneurship. Masters thesis, Universiti Utara Malaysia.
PDF




SHAMSUL_HUDA_BT._ABDUL_RANI.pdf


Restricted to Registered users only
Download (10MB) | Request a copy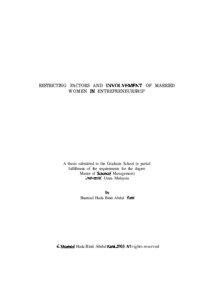 Preview
PDF




1.SHAMSUL_HUDA_BT._ABDUL_RANI.pdf


Download (887kB) | Preview
Abstract
This research examine whether there is difference between part time businesswomen and full time businesswomen. The differences examined are in terms of responsibility to the
family, work stressor and financial problem. Other than that, this research also examine whether there is discrimination by financial institution in giving loan to women entrepreneurs. Demographic characteristics also have been studied in this research. There are age of respondent, marital duration, number of children, educational background, husband's occupation, status of involvement, ownership, initial capital, sources of capital, level of business and years in business. There are 70 questionnaires that have been distributed to businesswomen. 62 of the questionnaires that fully completed have been collected with the response rate of 88.5%. Descriptive statistic and independent sample t-test have been used to analyze the data. Analysis shows that there are differences between part time and full time businesswomen in terms of responsibility to family and work stressor. However, in terms of financial problem, study shows that there is no difference between part time and full time businesswomen. From the discrimination issue, this study had probed that there is no discrimination towards businesswomen done by financial institution in managing loan that were requested by businesswomen. This study gives more understanding about businesswomen and can help them plan their own career besides managing their time and contribution wisely in the dual role life. It is also very important to organization that related to women entrepreneur in identifying problems faced by women entrepreneur to plan organization development programmed by considering women needs. This is because the number of businesswomen is increasing every year.
Actions (login required)