Siti Faeizah, Mohd. Ali (2003) Web Based Neurofuzzy for Classifying Diabetes Woman with History of Pregnancy. Masters thesis, Universiti Utara Malaysia.
PDF




SITI_FAEIZAH_BT._MOHD._ALI.pdf


Restricted to Registered users only
Download (8MB)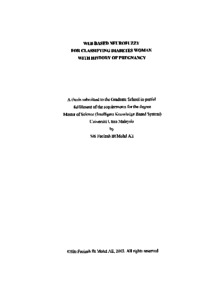 Preview
PDF




1.SITI_FAEIZAH_BT._MOHD._ALI.pdf


Download (912kB) | Preview
Abstract
World Wide Web (WWW) is known as a popular medium to achieving and integrating knowledge. Neurofuzzy ia a combination of Artificial Intelligence (AI) techniques, namely neural network and fuzzy logic. Neural networks were originally developed to mimic human information processing, learning and decision making. The name neural network arises from the fact that the human brain can be viewed as networks of interconnected neurons or information processing units. On the other hand, fuzzy logic is introduced to deal with a problem by providing the systematic calculus that can make the information linguistically but lacks of adaptability to deal with changing external environments. Diabetes is a chronic condition associated with abnormally high levels of glucose (sugar) in the blood. The classification of diabetes woman with history of pregnancy is important in determining the most appropriate form of treatment for these patients and the early detection of diabetes is important because the diabetes disease can cause serious health complications like heart disease, blindness and kidney failure. The purpose of this study is to develop of neurofuzzy system prototype system will classify whether the woman having diabetes, suspected to have diabetes or does not have diabetes. The development of the prototype system involves four phases of system development. The first phase is fuzzification in order to fuzzily the real data. The second phase, concentrates on the development of neural network engine using backpropagation for network training and testing. The third phase is defuzzification in order to convert the fuzzy output to real data. The final phase is to develop a web based classifying system for classification on new patient's data. The system has been developed using Microsoft's Visual Basic and Coldfusion 4.5. The data used to train and test the network was obtained from well-known repository that is UCI repository. The combination of neural network with fuzzy technique or neurofuzzy obtains 96.1% from the best network model. However, only 88.31% of classifying accurary was obtained when the neural network model was used. The finding indicates that the combination of fuzzy process with neural model increase the performance of the net.
Actions (login required)