Che Salmiah, Che Cob (2004) Evaluation of the Content and the Usability of Lower Secondary School Science Courseware. Masters thesis, Universiti Utara Malaysia.
PDF




CHE_SALMAH_BT._CHE_COB.pdf


Restricted to Registered users only
Download (5MB) | Request a copy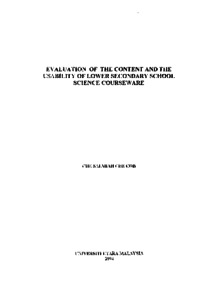 Preview
PDF




1.CHE_SALMAH_BT._CHE_COB.pdf


Download (1MB) | Preview
Abstract
The report presents the result of the evaluation of the contents and usability of the lower secondary science courseware which is provided by Malaysian Ministry of Education. The study is to know whether the contents of the courseware are reliable to the syllabus. The usability of the courseware is also evaluated in aspects of interactivity, navigation, screen appearance feedback, and technical aspects and update process. The aspect of learnability is also evaluated. The case study methodology has been chosen in carrying out the research. It involves six steps which are to determine and define the research questions, select the case and determine data gathering and analysis techniques, prepare to collect the data, collect the data in the field, evaluate and analyze the data and lastly prepare the report. Teachers are surveyed to determine their responses and the analysis shows that the teachers determine that the contents of the courseware is reliable to the syllabus and they give positive responses on the aspects of usability and provide some suggestions to enhance the usefulness of the courseware. Teachers also subjectively satisfy and find the courseware interesting.
Actions (login required)