Chew, Lam Leong (2004) "Human Factors" In Air Traffic Control A Study Of Its Application. Masters thesis, Universiti Utara Malaysia.
PDF




CHEW_LAM_LEONG.pdf


Restricted to Registered users only
Download (5MB) | Request a copy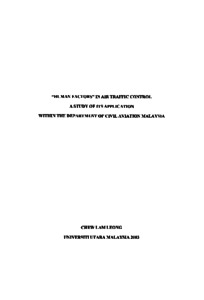 Preview
PDF




1.CHEW_LAM_LEONG.pdf


Download (1MB) | Preview
Abstract
This study is about Human Factors. Despite advancements in technology, aviation incidents and accidents still occur. Investigations reveal that over 70 percent of aviation accidents are due to human error. An understanding of human performance limitations and strengths and how they interact with equipment, other people, software programs, the environment can go a long way in enhancing aviation safety. This study tries to provide a snap-shot picture of the general awareness of Human Factors among Air Traffic Control Ofkers in the Department of Civil Aviation Malaysia. It also looks at how the Department employs Human Factors concepts in the areas of selection and training of Air Traffic Control Officers, when highly automated systems are introduced and when incident investigations are conducted. The research is based
primarily on survey responses. The survey instruments are questionnaires and structured interviews. Subsequent analyses using statistical analysis techniques like
ANOVA and Pearson's correlation allowed hypotheses to be tested. The study found that the general level of awareness among Air Traffic Control Officers to be generally low and that the application of Human Factors concepts in the areas mentioned can be further improved by the Department.
Actions (login required)