Chuan, Wan Phen (2003) Faktor-Faktor Mempengaruhi Pencapaian Matematik Pelajar Cina Sekolah Menengah Jenis Kebangsaan Chung Hwa, Kota Bharu. Masters thesis, Universiti Utara Malaysia.
PDF




WAN_PHEN_AP_CHUAN.pdf


Restricted to Registered users only
Download (7MB) | Request a copy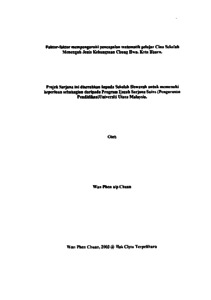 Preview
PDF




1.WAN_PHEN_AP_CHUAN.pdf


Download (972kB) | Preview
Abstract
The purpose of this study is to identify factors related to the mathematics achievement of Chinese students of SMJK Chung Hwa. 301 respondents from the school took part in this study. Pearson Correlation and independent t-test were use to test the hypotheses in the study. The following independent variables were found to be related to mathematics achievement : tuition classes, the academic
background of parents, peer influence, the prerequisite knoweledge in mathematics, family size, and student interest. The independent factors examined in this study which contributed little towards the performance of students in mathematics were family income, perception of students and roles of parents as well as that of teachers.
Based on the findings, the school still has room to excel in the field of mathematics. It is suggested that the school carry out the teaching and learning processes in small groups and provide extra classes for weak students in mathematics from the very first year they enrol in SMJK
Chung Hwa.
Actions (login required)