Hashiroh, Hussain (2004) E-Magazines in Boarding School Libraries : Perceived Usefulness of Different Designs. Masters thesis, Universiti Utara Malaysia.
PDF




HASHIROH_BT._HUSSAIN.pdf


Restricted to Registered users only
Download (6MB) | Request a copy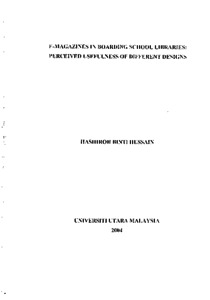 Preview
PDF




1.HASHIROH_BT._HUSSAIN.pdf


Download (831kB) | Preview
Abstract
Two prototypes were employed to introduce electronic magazines (e-magazine) in an attempt to solve insufficient and inaccessibility problems in boarding school libraries. E-magazine is a digitised magazine and an alternative reading material for students' reference. In order to introduce them, design features of the magazine
need to be identified and the its perceived usefulness should be ascertained. The main objective was to measure the perceived usefulness of different designs; exact
printed appearance and multimedia enhanced. Adobe Acrobat Professional 6.0 as software reader (PDF format) and Macromedia Flash MX as application software to design interface and content were utilised. User Centered Design (UCD) approach was adopted during the design process of the multimedia media enhanced version. Twenty students (age between 15-17 years old) participated in this study. A set of tasks was completed using the two different versions of e-magazines and some questions were answered. In order to determine perceived usefulness for both
versions, the group mean value was compared. The result indicates that the multimedia enhanced is perceived to be more useful compared to the exact printed appearance.
Actions (login required)