Otuom, Anas Mustafa Mohammad (2008) Mobile Application for Post Childbirth Services (MPCB). Masters thesis, Universiti Utara Malaysia.
PDF




Anas_Mustafa_Mohammad_Otuom.pdf


Restricted to Registered users only
Download (1MB) | Request a copy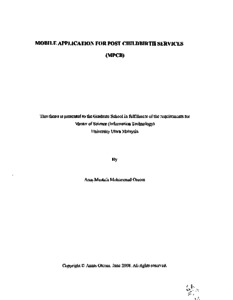 Preview
PDF




Anas_Mustafa_Mohammad_Otuom.pdf


Download (138kB) | Preview
Abstract
Health care service are easily available in the cities, however people in the rural area to far from hospitals and clinic woman who have just given birth potentially, is one of the most sensitive case in healthcare field. The health workers have to go to the rural areas to give health service as well as to collect information about the mothers and baby after post delivery manually. In this way of
collecting and how ever the information the staff spends the time and the effort to go far to rural areas. The aim of this project to develop mobile application to the process of data collection, retrieve and update enable health worker to collect information from mothers in rural areas the process of data collection, update record as well as provide information to the mother are while they provide the service during there visits. This system create for identify the user requirement for care of post delivery application and also develop the prototype based on the requirement gathered and finally to evaluate the user acceptance by focusing on the functionality of the system.
On the other hand this system create for gathering, retrieving data about mothers and baby after post delivery by nurses in KKJ (Klinik Kesihatan Jitra ). Finally this system playing major roll in improving the performance of accessibility to the data inside the system and also retrieving data become easy. The concern is not about rural areas, it is how the nurses want to keep track with the record /data about the baby after the mother has delivered.
Actions (login required)