Hasnatul Nazuha, Hassan (2004) Intelligent Paddy Disease Diagnosis System Using Case-Based Reasoning. Masters thesis, Universiti Utara Malaysia.
PDF




HASNATUL_NAZUHA_HASSAN.pdf


Restricted to Registered users only
Download (2MB)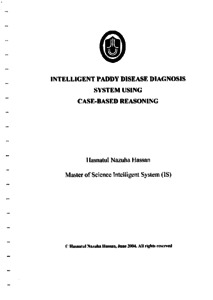 Preview
PDF




1.HASNATUL_NAZUHA_HASSAN.pdf


Download (660kB) | Preview
Abstract
Case-based reasoning (CBR) ia a recent approach to problem solving and learning that has got a lot of attention over the last few years. Case-based is an innovative technology that enables the implementation of 'intelligent' functions in embedded systems. It has been implemented in different kind of domain and area. In this study, we will look at the development and design of intelligent paddy disease diagnosis system using case-based reasoning technique.
Actions (login required)