Amran, Mahadi (2005) Mobile Learning in School : A Case Study on Attitude and Implementation in Sekolah Menengah Kebangsaan Tajar. Masters thesis, Universiti Utara Malaysia.
PDF




AMRAN_B._MAHADI.pdf


Restricted to Registered users only
Download (4MB)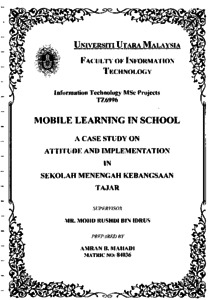 Preview
PDF




1.AMRAN_B._MAHADI.pdf


Download (1MB) | Preview
Abstract
The purpose of this research is to identify the attitude of teachers and students of Sekolah Menengah Kebangsaan Tajar towards Mobile Learning. The attitude is based on their acceptance to use mobile learning as one method to retrieved information using lap top with wireless capabilities. This research also would recommend on how to setup a wireless environment in the school area in order to implement Mobile Learning.
190 participants that consists 10 teachers and 180 students were selected to answer the questionnaire. Each respondent were given the questionnaire which was adapted from Davis (1989) and Morris and Dillon (1997) as an instruments to gather the required data. For this study, each respondent were given an explaination and demonstration on Mobile Learning and they also were given the opportunity to surf the internet to find, to get and
to download information regarding their lesson.
From the findings, it shows that each respondent has an attitude to accept and to use Mobile Learning to retrieved information during the process of teaching and learning in
class. Based on the analysis also show that the usefulness and ease of use factor has a positive relationship with their attitude towards using Mobile Learning in conducting lesson.
Actions (login required)