Fadhilah, Aman (2005) A Web Based Help Desk System Using Open Source Software. Masters thesis, Universiti Utara Malaysia.
PDF




FADHILAH_BT._AMAN.pdf


Restricted to Registered users only
Download (4MB) | Request a copy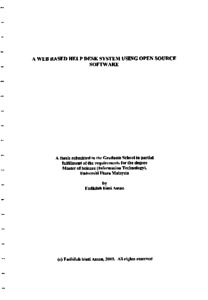 Preview
PDF




1.FADHILAH_BT._AMAN.pdf


Download (814kB) | Preview
Abstract
This project aims to develop a working prototype of a web based help desk application using Object Oriented approach and Open Source software. Three main phases were involved in this project, which are defining requirements, analyze requirements and validate requirements. The requirements are defined in a way that they are suitable to be used by
small to medium sized companies. The requirements are analyzed by constructing use case diagram, use case specifications, class diagram, activity diagrams and the list of requirements. A working prototype is developed using open source software to validate the requirements. The prototype can be readily used by small to medium sized companies, and can be a base for them to develop their own help desk system that includes other requirements and enhancements which are deemed fit for their needs.
Actions (login required)