Ilyana, Ismail (2005) An Online SMEs Income Tax Calculation in Malaysia. Masters thesis, Universiti Utara Malaysia.
PDF




ILYANA_BT._ISMAIL.pdf


Restricted to Registered users only
Download (8MB) | Request a copy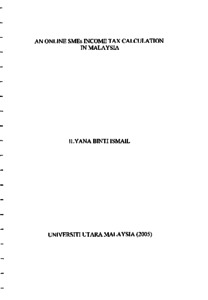 Preview
PDF




1.ILYANA_BT._ISMAIL.pdf


Download (1MB) | Preview
Abstract
Online taxation is a system that provides tax calculation process and to ensure there is no flaws on any potential deductions for users to calculate the tax amount. The purpose of this project is to develop a prototype of an online income tax calculation system for SME in Malaysia. In addition, the usability testing also was conducted in order to assess SMEs managers' satisfaction for this
prototype. The system has a lot of advantages which are the system is quicker, low cost, can decrease the calculation error, and the amount is more accurate compared to manual taxation system.
While carrying out this project, the prototype approach has been adopted as a methodology in order to develop this system prototype. Findings for this project are divided into four subsections which are system usefulness, information quality, interfaces quality and overall satisfaction. The feedbacks from respondents indicate that the system is iusefulness but needs further
development in terms of the content and interfaces quality.
Actions (login required)