Irwin, Nuzuar (2005) A Marketing Evaluation of Tourism Development in West Sumatera. A Case of Domestic Tourism. Masters thesis, Universiti Utara Malaysia.
PDF




IRWIN_NUZUAR.pdf


Restricted to Registered users only
Download (5MB) | Request a copy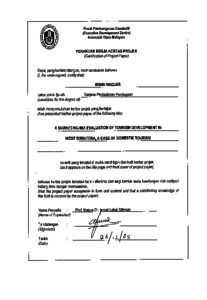 Preview
PDF




1.IRWIN_NUZUAR.pdf


Download (784kB) | Preview
Abstract
Tourism has long been recognized as a fast growing industry and has been noted as possibly the world's largest industry. The aim of this research is to analyze the effectiveness of West Sumatera tourism development using marketing mix strategy 7Ps (product, price, place, promotion, personnel, physical evident, and process) and
intention to visit. It is hypothesized that there is a positive relationship between all the marketing mix elements towards intention to visit West Sumatera. A total of 190 usable questionnaires were used in this study. Respondents were asked on their perception of West Sumatera tourism industry. Findings of this study confirmed that product, price, place, promotion and process have a significant impact to tourist (domestic) intention to visit West Sumatera. However, personnel and physical evident have no significant relationship towards the tourist intention to visit West Sumatera. It should be noted that due to the limitation of respondents, the findings could not be generalized as a whole population.
Actions (login required)