Afifah Alwani, Ramlee (2008) Emerging Multinational Companies Behavior to China: Malaysian Case. Masters thesis, Universiti Utara Malaysia.
PDF




Afifah_Alwani_Ramlee.pdf


Restricted to Registered users only
Download (1MB) | Request a copy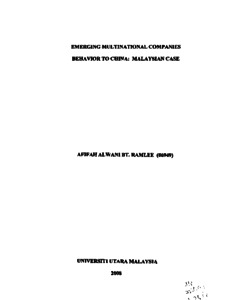 Preview
PDF




Afifah_Alwani_Ramlee.pdf


Download (206kB) | Preview
Abstract
The purpose of this dissertation is to explain the opportunities offered by China as one of the fastest growing economy in this world and also to seek its main attraction that become as a push and pull factors to encourage the Malaysian MNCs to invest there. Besides, this dissertation also examines some theories of investment which is related to the factors why Malaysian MNCs decide to go out, especially to China. In order to portray a clear picture about China, this dissertation had generally explain about the business environment in China, the background of its economy, socio-cultural, government incentives and also its demographic factors of China. Furthermore, it also had discuss about the three main industries in China; manufacturing, construction and
engineering and also automobile industry as a main contribution industries to the growth of China's economy. Thus, this study had attempt to analyze the three Malaysian MNCs which are operated in China; GAMUDA BERHAD, ENG TECH and SIME DARBY BERHAD, as a finding to discuss in depth about the real situation that happened to them. As a result, three simple models had been design derived from the basic model of push and pull factors for MNCs to go out.
Actions (login required)