Lau, Ming Sern (2005) An Empirical Study on the Determinants of FDI in Malaysia and its Link to Trade (1978-2002). Masters thesis, Universiti Utara Malaysia.
PDF




LAU_MING_SERN.pdf


Restricted to Registered users only
Download (4MB) | Request a copy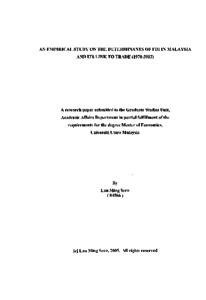 Preview
PDF




1.LAU_MING_SERN.pdf


Download (1MB) | Preview
Abstract
This paper examines the link between inward FDI and trade and how each affects the other in Malaysia. This study is based on annual time series data from the years 1978-2002. The main method of study is via the gravity model which is normally used to determine the extent of trade flows. This study incorporates the gravity model to measure FDI using an augmented gravity model in order to link trade and
inward FDI. The results of this study indicate that imports actually induce higher inward FDI which inward FDI itself does not induce higher trade levels through imports. While the findings are generally in line with the literature and empirical studies, it also serves to validate the earlier theories of FDI namely the factors which determines the entry mode of inward FDI into Malaysia. This means that MNC's would generally prefer to initially penetrate the Malaysian markets via exports before setting up production here. Thus, trade through imports can be said to be a precursor of future inward FDI.
Actions (login required)