Mohd. Fakharulzaman, Che Hamzah (2005) eBook Reader : A Comparison on Perceived Usefulness and Ease of Use. Masters thesis, Universiti Utara Malaysia.
PDF




MOHD._FAKHRULZAMAN_CHE_HAMZAH.pdf


Restricted to Registered users only
Download (3MB) | Request a copy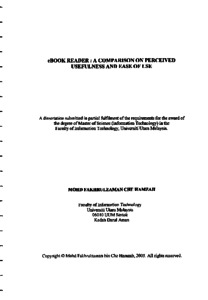 Preview
PDF




1.MOHD._FAKHRULZAMAN_CHE_HAMZAH.pdf


Download (1MB) | Preview
Abstract
This report discusses a study that related with measuring Malaysian children perception towards International Children Digital Library eBook reader types. ICDL
operates using five types of eBook reader; standard, comic strip, spiral, plus and Adobe. Davis' Technology Acceptance Model (TAM) (1989) is used in this study to
identify Malaysian children perception towards standard and comic strip eBook reader types. Davis believes whether that particular technology is accepted or rejected based on two factors; usefulness and ease of use. Since this research is focuses on ICDL eBook reader, thus collaboration with ICDL is required and one Malay eBook has been published and ready for viewing in ICDL. For data gathering process, questionnaire had been distributed to get children response. Results from a pilot test involving 35 children reveal that both usefulness and ease of use scales are highly reliable (Cronbach's Alpha > 0.7). An experiment has been conducted with a sample of 35 primary school student in the state of Terengganu. Results from the
analysis show that children perceived comic strip reader as more useful compared to with standard reader but they perceive standard reader as easier to use compared with
comic strip reader. Test results also show that gender, age group, and computer experience have no significant influence on users' perceptions on usefulness and ease
of use on ICDL eBook readers.
Actions (login required)