Muhammad Faizal, Kamran (2005) Reforming Web-Based Entrepreneur Application Interface : A Case Study of Dewan Perniagaan Melayu Malaysia Kedah (DPMMK). Masters thesis, Universiti Utara Malaysia.
PDF




MUHAMMAD_FAIZAL_B._KAMRAN.pdf


Restricted to Registered users only
Download (11MB) | Request a copy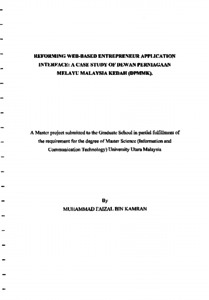 Preview
PDF




1.MUHAMMAD_FAIZAL_B._KAMRAN.pdf


Download (2MB) | Preview
Abstract
In developing a user-friendly interface for DPMMK application many new enhancement has been made. These enhancements contributed the improvement of DPMMK
application graphical user interface (GUI). This project has discovered nine elements that has been implement in DPMMK application.
The element in achieving a user-friendly interface for DPMMK system is security, dynamic interface, system authority, empowerment, open source, accessibility, reporting, network performance, and analyze feature. This element could be described into two categories that are indirect and direct element.
The direct element has a direct impact on the graphical user interface such as dynamic interface, reporting and analyze feature (graphic and animation). While the indirect
element for examples is performance and deployment would contribute to the system ability in displaying the GUI. The indirect elements would include security, open source,
accessibility and network performance.
In short DPMMK system is a dynamic system in many aspects. In achieving a userfriendly interface the system must satisfy the user need. The issue in user-friendly
interface is so wide that in order to achieve it, a system must be reformed in many aspects and not just the graphical user interface.
Actions (login required)