Lee, Hui Chi (2004) A Strategic Analysis on Internet Banking : A Malaysian Case. Masters thesis, Universiti Utara Malaysia.
PDF




LEE_HUI_CHI.pdf


Restricted to Registered users only
Download (4MB) | Request a copy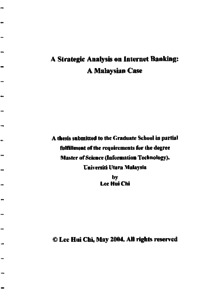 Preview
PDF




1.LEE_HUI_CHI.pdf


Download (531kB) | Preview
Abstract
The vast technological advancement in the field of telecommunications and information technology had contributed significantly in evolution of distribution channels for banking products and services in Malaysia. In recent years, since the granting of approval by the Central Bank of Malaysia for locally owned commercial banks to offer Internet banking services on June 1, 2000, this mode delivery channel appears to be current trend in the electronic revolution that is fast developing in the Malaysia banking sector. In this study, SWOT analysis is applied on Internet banking in Malaysia to assess is strengths and weaknesses, vis-a-vis its external opportunities and threats. This analysis forms the starting point of evolving and Internet banking marketing strategy plan as it provides the basic for defining which key issues will need to managed in order to develop and effective banking marketing plan for the future. This study also include a target market analysis, as well as the design of a marketing mix that is able to support the marketing strategy plan for Internet banking in Malaysia.
Actions (login required)