Nurul Azura, Che Hashim (2005) Usability Testing on Learningcare. Masters thesis, Universiti Utara Malaysia.
PDF




NURUL_AZURA_CHE_HASHIM.pdf


Restricted to Registered users only
Download (3MB) | Request a copy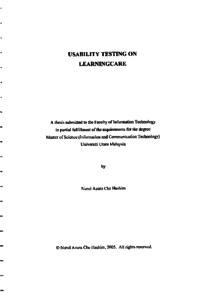 Preview
PDF




1.NURUL_AZURA_CHE_HASHIM.pdf


Download (1MB) | Preview
Abstract
The interest in using the Internet and Web in the classroom as part of the learning environment increase dramatically. The value of e-Learning has become widely
recognized and accepted. Although e-Learning systems are increasingly used, there are a number of users complaining about usability of e-Learning. The usability of e-Learning systems is one of the key features for its success. This study aims to look into usability of e-Learning application in Universiti Utara Malaysia (UUM). Two
usability attributes were examined: Learnability and Ease-of-use. Usability testing method (Thinking aloud technique) was applied and been tested to the twenty
lecturers from the Faculty of Information Technology (FTM). The results indicated that the system is easy to use and to learn. Eleven usability problems were identified
and discussed in this study together with its recommendations for solve the problems.
Actions (login required)