Mohamed Asri, Abd Rahman (2004) Menganalisis Model Peramalan Terbaik Bagi Meramal Beban Kerja Jabatan Kerja Sosial Perubatan di Hospital Kuala Lumpur. Masters thesis, Universiti Utara Malaysia.
PDF




MOHAMED_ASRI_B._ABD._RAHMAN.pdf


Restricted to Registered users only
Download (7MB)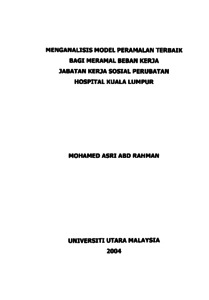 Preview
PDF




1.MOHAMED_ASRI_B._ABD._RAHMAN.pdf


Download (2MB) | Preview
Abstract
A marked increase in the number of cases received by Medical Social Department, Kuala Lumpur Hospital have been noted since 1996. This scientific research is to forecast the trend on the number of cases expected until 2010 and to identify the level of workload associated. The analysis was based on secondary data obtained from Medical Social Department and Ministry of Health. Several forecasting models were compared and the best method was used as the basis of forecasting. The models tested were Moving Average, Exponential Smoothing, Trend Exponential Smoothing, Linear Regression, Multiplicative Decomposition and Additive Decomposition. The study found that the Linear Regression model was the most suitable to be used in the
forecast. It can be concluded that based on the available data, there will be an increase in the number of cases received yearly until 2010.
Actions (login required)