Mohd. Jokha, Yahya (2004) Perlaksanaan Skim Kawalan Mutu Luaran di Kalangan Kakitangan Makmal Patologi Kimia. Masters thesis, Universiti Utara Malaysia.
PDF




MOHD._JOKHA_B._YAHYA.pdf


Restricted to Registered users only
Download (5MB) | Request a copy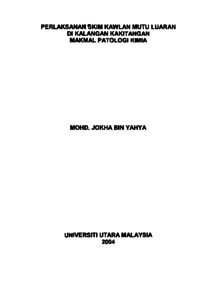 Preview
PDF




1.MOHD._JOKHA_B._YAHYA.pdf


Download (1MB) | Preview
Abstract
This study was conducted to evaluate the factors that related to the implementation of External Quality Control Scheme on the Chemical Pathology laboratory in the public hospitals of Malaysia. The population studies was among the employees in the middle and southern parts of Malaysia. Analysis was done to determine how the non depending variables that are managerial leadership, commitment, culture of the organization and understanding of the scheme related to the implementation of this scheme. The hypothesis is tested with questionnaire answered by Chemical Pathologists, Clinical Biochemists and Medical Laboratory Technicians. It was found that all the independent variables correlated with the implementation of the scheme. This influence is described and the implications are discussed. This will explain the scenario of how the organization was able to adapt the changes being implemented in their environment and culture. It is hope that this study is to increase the understanding of how the fundamental factors of change management are viewed in the medical base organization.
Actions (login required)