Rajan, Yenganaidu (2005) The Effectiveness of Virtual Reality in Tourism of Malaysia : An Empirical Study in Northern Region. Masters thesis, Universiti Utara Malaysia.
PDF




RAJAN_AL_YENGANAIDU.pdf


Restricted to Registered users only
Download (2MB) | Request a copy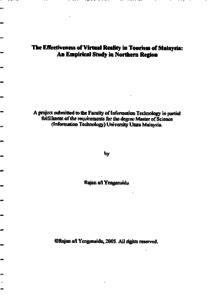 Preview
PDF




1.RAJAN_AL_YENGANAIDU.pdf


Download (797kB) | Preview
Abstract
The research is to identify the effectiveness of virtual tour in order to develop the country's tourism industry. A prototype of virtual tour and 100 questionnaires are distributed to the respondents around the northern region of Malaysia. The data analysis have been done using SPSS version 11.5. The questionnaires is tested with 0.7692 Reliability Coefficients. Overall, statistic shows that 17% or 17 respondents are agreed that virtual reality is moderately effective and other 83 respondents of 83% think that the effectiveness of virtual reality more than moderate. None of the respondent believes that the virtual reality technology will be ineffective to tourism industry.
Actions (login required)