Anita, Johari (2000) Smart Pace. Masters thesis, Universiti Utara Malaysia.
PDF




ANITA_BINTI_JOHARI_-_Smart_pace.pdf


Restricted to Registered users only
Download (5MB)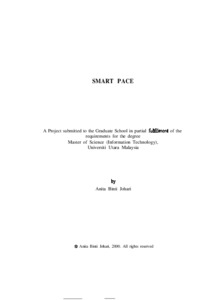 Preview
PDF




ANITA_BINTI_JOHARI_-_Smart_pace.pdf


Download (5MB) | Preview
Abstract
Information technologies are expanding at an extremely rapid rate. The fundamental technological change now is referred to as the information revolution.
The revolution has done a lots of changes to the way we lives today, but at the same time is improving our life quality for facing the competitive advantage in new
Information Age. Centre for Professional and Continuing Education (PACE) in Universiti Utara Malaysia (UUM) whose main role is to provide a distance learning program and corporate training, has accepted the technologies challenge in improving the facilities and services provide by them.
In achieving their main goal for giving an effective learning and efficient training, a blueprint for entire centre computerization has been proposed in this project report called a SMART PACE. The blueprint contains in details of how PACE may proceed for developing an automation system in the office by using the e-Management concept, and e-learning concept for their distance learning programs.
This paper discusses in detail the hardware and software requirements with the proposed computer networking in order to develop a successful project.
Actions (login required)