Wan Mursyidah, Wan Ismail (2005) Capital Structure of Malaysian Listed Companies. Masters thesis, Universiti Utara Malaysia.
PDF




WAN_MURSYIDAH_BT._WAN_ISMAIL.pdf


Restricted to Registered users only
Download (3MB) | Request a copy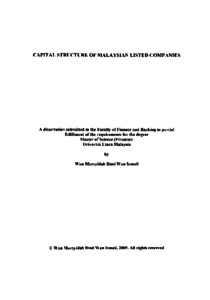 Preview
PDF




1.WAN_MURSYIDAH_BT._WAN_ISMAIL.pdf


Download (841kB) | Preview
Abstract
This study was attempted to identify the determinants of Malaysian companies' capital structure, the relationship between profit ability, size, growth opportunities, assets structure and non-debt tax shields with the leverage and to see whether Malaysian companies followed the pecking order theory in making a decision concerning the capital structure. The findings showed that profitability, non-debt tax shields and size were significant in determining the capital structure. Profit of Malaysian companies gave a significant result and this was consistent with the
pecking order theory. Growth opportunities and assets structure were not significant.
Actions (login required)