Noor Asyikin, Shamsuri (2004) Organizational Justice As a Determinant of Job Satisfaction and Organizational Commitment : A Study Among Lecturers and Assistant Registrars in Universiti Utara Malaysia. Masters thesis, Universiti Utara Malaysia.
PDF




NOOR_ASYIKIN_BT._SHAMSURI.pdf


Restricted to Registered users only
Download (5MB)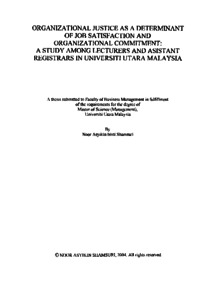 Preview
PDF




1.NOOR_ASYIKIN_BT._SHAMSURI.pdf


Download (1MB) | Preview
Abstract
The purpose of this study was to identify how perception of equity and justice played an important role in employees' satisfaction and commitment to the organization. This study
examined the role of demographic factors as a moderator in linking organizational justice and job satisfaction and organizational commitment in higher institution. It is also was done to determine whether there are differences between lecturers and assistant registrars on satisfaction and commitment to the organization. This study involves lecturers and assistant registrars in Universiti Utara Malaysia. The population of this study is about 1012 for lecturers and 48 for assistant registrars. The sample for lecturers included all the lecturers in the selected faculties. While the sample for assistant registrars were using its population. A total of 500 questionnaires were
distributed and as a result, they were only 153 usable questionnaires, which is 119 for lecturers and 34 for assistant registrars. The various instruments were used in the questionnaire which is Distributive Justice
Index, Procedural Justice Scale, Job Diagnosis Survey, and Organizational Commitment Questionnaire. The reliability of the instrument used is high, which is ranging from
0.9056 to 0.9507. The findings in this research are determined by using correlations and regression and the comparison made by using T-test analysis and Anova. Using this kind of analysis, the hypotheses generated could be determined whether to be rejected or accepted, All six hypotheses were accepted. In the last chapter, some recommendations have been made for future use of the researcher to enhance the added value of this research especially in this academic field.
Actions (login required)