Noor Azizan, Mohd. Isa (2004) Buli dan Hubungannya Dengan Prestasi Akademik di Sekolah Berasrama Penuh di Kedah. Masters thesis, Universiti Utara Malaysia.
PDF




NOOR_AZIZAN_B._MOHD._ISA.pdf


Restricted to Registered users only
Download (5MB) | Request a copy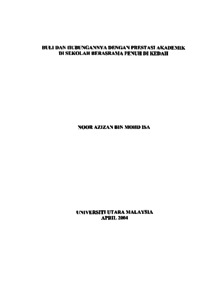 Preview
PDF




1.NOOR_AZIZAN_B._MOHD._ISA.pdf


Download (821kB) | Preview
Abstract
The purpose of this study is to describe gangterism in relation to bullying behavior and determine its relationship with students' academic achievement in three residential schools (SBP) in Kedah. The dimensions of bullying studied are types of bullying behavior, types of bullies and victims, places where bullying frequently happened either direct or indirect bullying and bullies and victims emotions and feelings. It is also attempted to identify the relationship between dimensions of bullying behavior and students' academic achievement. The samples of study are students from Form One to Form Five of the three selected SBPs in Kedah. Descriptive analysis and Pearson Correlation (r) are used for data analysis. Results showed that bullying incidents occured mainly in the hostel, cafeteria and bathroom or toilet more frequently compared to other places. More boys and groups of boys were involved in bullying compared to girls and the occurrence is more of indirect bullying. However, there are responses indicating that direct physical bully do exist though at a low rate but this call for appropriate action before the incident is beyond the control of the authority. Result of correlation analysis showed academic achievement was not significantly related with bullying and victims of bullying. Nevertheless, a total of 77 percent of 396 respondents belong to the hogh achievers group compared to 23 percent who belong to the low achievers group.
Actions (login required)