Normala, Zulkifli (2004) Model Makroekonomi dan "Computable General Equilibrium' Malaysia : Tinjauan dan Kritikan. Masters thesis, Universiti Utara Malaysia.
PDF




NORMALA_BT._ZULKIFLE.pdf


Restricted to Registered users only
Download (6MB) | Request a copy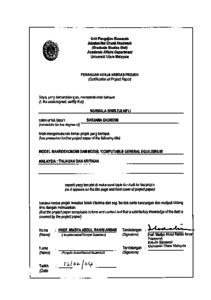 Preview
PDF




1.NORMALA_BT._ZULKIFLE.pdf


Download (649kB) | Preview
Abstract
The purpose of this study is to survey and critics on Malaysian Macroeconomic and Computable General Equilibrium (CGE) Models that had been built by the later researchers. The macroeconomic models are (i) Cheong Kee Cheok Model (CKC 1) 1957-1968 and (CKC 2) model 1949-1968; (ii) M. Semudram model 1959-1977; (iii) R. W. Hayes model; and (iv) Ho Ting Seng (HTS) model 1983. Malaysian CGE models are; (i) Ahluwalia-Lysy (AL) model 1981; (ii) Khor Hoe Ee model 1982; (iii) Gan Khuan Poh model 1985; and (iv) Phang Hooi Eng model 1986. Besides, this study also discuss the application of Social Accounting Matrices (SAM) in CGE modeling. This survey concluded that HTS and Hayes models are better than CKC and Semudram models in analyzing macro policies. CGE simulation model for Malaysia was concentrate on different sectors and issues. Therefore, the best of the CGE model cannot determine by comparing the models. However, each of the models has their own strength and weakness in policy analyzing.
Actions (login required)