Sapina, Dusamo (2004) Evaluating Strategy for E-Commerce in Airline Industry : A Case Study of AirAsia. Masters thesis, Universiti Utara Malaysia.
PDF




SAPINA_BT._DUSAMO.pdf


Restricted to Registered users only
Download (3MB) | Request a copy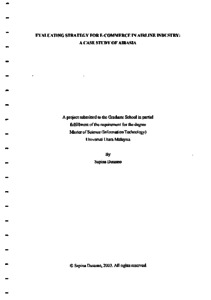 Preview
PDF




1.SAPINA_BT._DUSAMO.pdf


Download (559kB) | Preview
Abstract
The emergency of the Internet and technology is raised dramatically. It appears in various types of business and operations. Firms are adopted in Internet and technology to assist an improve their business' performances. Due to the rapid change and high competitive of the world market today, firms are imperatively to conduct business in the modern and easy way in order to remain competitive and profitable. Electronic commerce (e-commerce) is a popular way of conduct business. Most firms are adopted e-commerce initiative into their operations n order to improve quality of service, lower cost and reduce time to market. However, there are many failure in adopting e-commerce initiative, Those failure are significantly concern with the strategy, both the corporate strategy and e-commerce strategy. This paper present review of the literature regarding to the business models, e-commerce and its strategy in international and domestic airline industries, models and frameworks of evaluating e-commerce strategy, as well as the Airasia's e-commerce strategy. The objectives of this research are to evaluate e-commerce strategies of a case study (Airasia) by using 'E-commerce value creation strategy' framework and design a guideline for evaluating e-commerce strategy in airline industry. This guideline is expected to contribute the executive and IT managers in generating and implementing e-commerce strategy in airline industry.
Actions (login required)