Zulhai, Mohd. Nor Affendy (2004) Kepuasan Pesakit Terhadap Perkhidmatan Hospital. Masters thesis, Universiti Utara Malaysia.
PDF




ZULHAI_B._MOHD._NOR_AFFENDY.pdf


Restricted to Registered users only
Download (6MB)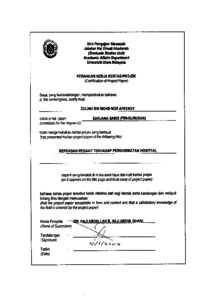 Preview
PDF




1.ZULHAI_B._MOHD._NOR_AFFENDY.pdf


Download (1MB) | Preview
Abstract
This research is generally used to recognize the patient's satisfaction of the hospital services : Focus study in Jitra Hospital, Kedah Darul Aman. The main problems in the patients such as waiting time, communication time of doctor in treatment room and patient's characteristic are the main factors which based on gender. This study also to identify the correlation of age, waiting time and treatment time factors toward the level of patient's satisfaction. Finally, the influence of the factors will be determine whether it is significant with the level of patient's satisfaction toward the hospital services. The research data which involved of 361 respondents was collected in the Emergency Unit of Jitra Hospital. Systematic random sampling technique and a set of questionnaire by post was used. Then, five hypothesis was analysed through SPSS by using descriptive statistics, T-test, correlation test and linear regression test to find out the significant of the variables factors. The findings showed that the variables factors are correlated and significantly influenced with the level of patient's satisfaction but not determined the difference of satisfaction between gender. This analysis concluded the treatment time factor was the most critical and important than others. If more time used in treatment, the patients more satisfied. Furthermore, this research proposed that the hospital management especially the doctors will be careful and sensitive in term to improve and increase communication quality and satisfaction with the patients in the hospital's treatment room.
Actions (login required)