Ghunaim, Hussain Sami. (2009) Interactive Web-Based Shopping System for the Hypermarkets in Saudi Arabia. Masters thesis, Universiti Utara Malaysia.
PDF




Hussain_Sami_Ghunaim.pdf


Restricted to Registered users only
Download (1MB)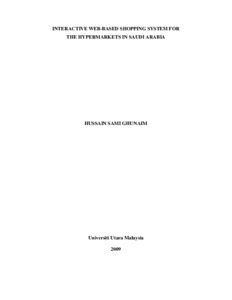 Preview
PDF




1.Hussain_Sami_Ghunaim.pdf


Download (97kB) | Preview
Abstract
Interactive web-based shopping services give the flexibility and the easy to access anytime and anywhere without need to wisest the time for the hypermarkets that
located in Saudi Arabia. However, Saudi Arabia contain a large number of these hypermarkets, the sell process for these hypermarkets not friendly to attractive the buyer and not appropriate to support them about merchandise information. For that the study proposed to design an Interactive Web-based Shopping System for the hypermarkets in Saudi Arabia that makes it easy and flexible for the customers to make their shopping by online services, otherwise the proposed Web-based shopping system provides the customers with the facility to check the merchandise price and view them via the system.
Actions (login required)